When she transferred to NIU from Rock Valley College, Morgan Cunningham worried it would be hard to make friends.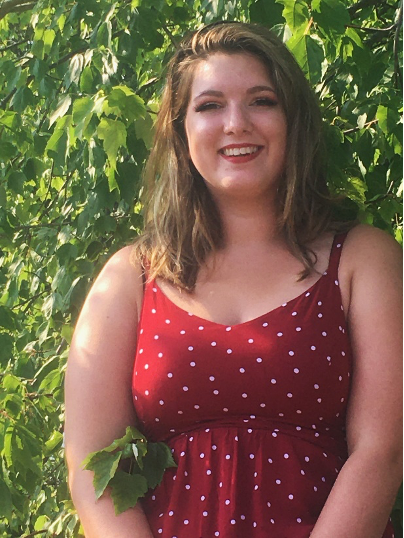 Three years later, she realizes making friends was the easy part. It is leaving them that will be hard.
"I've met a lot of really fun people and I've made amazing friends," Cunningham, '21, said. "I'm hoping to stay in DeKalb [after graduation] to help the community here."
Cunningham is studying early childhood education with an emphasis on special education. After her graduation in the spring, she intends to teach preschool or kindergarten. She hopes to teach blended classrooms that include both special education and mainstream students and would like to teach in DeKalb or near Chicago.
"I just want to go where the need is most prevalent," she said.
In addition to forging relationships with her peers, Cunningham was touched by the caring of NIU faculty. One instructor, she said, went so far as to give Cunningham a selection of her own clothes when Cunningham needed a work wardrobe.
"I didn't even ask. She just did it," Cunningham said. "She's one of the most understanding, wonderful people I think I ever could have had the gift to meet."
Cunningham, of Rockford, first discovered NIU as a high school student when she attended journalism competitions on campus. She was enchanted by the beauty of the campus in the springtime, she said. Once she became a student, she found it equally stunning in the winter and fall.
"One of my favorite places is right outside Gabel Hall," she said. "There's this beautiful cherry tree out there. In the spring, it blooms, and it smells amazing. In the fall, the leaves turn this beautiful red color. It's a beautiful, quiet, relaxing place."
Cunningham also had a family tradition to uphold. Her father, aunt, and grandmother are all NIU alumni, and her younger sister just started her sophomore year.
"It's great to have that shared experience with family," she said.
Cunningham is deeply grateful for the scholarships that have made her NIU experience possible. Her first year, she said, was entirely paid for with a patchwork of scholarships. Her second year, she received a few smaller awards, but still had to take on substantial debt.
This year, she was stunned to receive the NIU Foundation's Impact Scholarship.
"This is the biggest scholarship I have received. It was mind boggling," she said. "It took quite a while to actually wrap my head around how big the impact would actually be from the scholarship. I was so worried about how I would pay for the schooling I need to finish my degree. This scholarship opened all the doors for me."