The Impact Scholarship came at the perfect time for senior psychology major Cindy Duran. Her employer had closed due to the COVID-19 pandemic, and she was worried about making ends meet.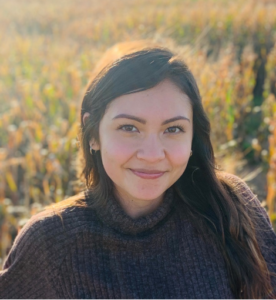 Duran describes her family as hardworking and blue collar, and explains that her parents have always worked several jobs at a time in order to provide an education for her and her younger brother.
"I am proud of my parents and of my culture because it has made me into the loving, educated, and strong woman I am today," she says.
The Waukegan native adds that her appreciation for parents' sacrifices grows every year as does her appreciation for the scholarship support she's received.
"The Impact Scholarship has definitely taken a load of stress off my family," Duran said. "COVID changed a lot of things. This really helps."
When Duran first transferred to NIU from College of Lake County, she was a little overwhelmed. Determined to find her place in the community, she began joining student organizations right away.
"When I joined Mujer a Mujer, especially, I met a lot of girls I clicked with right away," she said.
"These are people I feel like I will be friends with for a long time, and I am so grateful for that. I was afraid I wouldn't easily click with people, but NIU is a very diverse campus and community. I felt accepted right away, and I have made so many friends."
Duran said she appreciates how many opportunities NIU offers for students to get involved. Her instructors have also been very welcoming, she said, and are quick to offer one-on-one support.
Duran has already decided to pursue graduate school after finishing her bachelor's degree. With her strong affinity for working with high school and college populations, she is torn between pursuing clinical psychology and school psychology.
With a double minor in sociology and counseling, and a certificate in criminology, Duran is leaving all her options open.
"I was just going to do my psych major and counseling minor, but I felt having knowledge in a variety of topics would be helpful in the future," she explained.
Duran is hoping to obtain several internships before finishing her master's degree, which should help her narrow down the field she most wants to pursue.