Maria Olivares says that to her, being a Huskies means, "looking forward to a bright future and plenty of opportunity."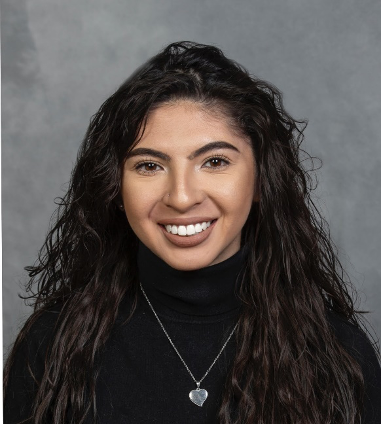 The Rockford native says that being a Huskie also means working hard to achieve her goals so she can demonstrate gratitude to those who've helped her along the way. "I would not be at this level in my education without my parents' support," she says.
Olivares says she is also grateful for the NIU Foundation Impact Scholarship which allows to stay in DeKalb and study rather than travel back to Rockford for home and work. "Scholarships are really helpful. They allow me to focus on schoolwork and free up more time for studying."
When making her school selection, Maria Olivares toured several campuses. None, she said, showed the personal interest in student success that she saw at NIU.
Other campus tours, she said, focused on the locations around campus. On NIU's tour, she learned far more about the programs and organizations available to students.
"NIU is different from other schools," she said. "People here really care about making sure you know the process – how to get involved and who to contact for anything you need."
Olivares is now in her senior year and is thriving as a business administration major.
"I love it," she said. "I love being in Barsema Hall. Within just a few weeks, I had made really good friends. The staff are all so respectful and helpful, and everyone in the College of Business is really friendly."
Olivares' campus experience wouldn't be complete without her study group. The friends she has made while studying are behind her favorite memories of NIU.
"They really make studying fun for me," she said. "I appreciate those people who get together and help others who learn in different ways."
Olivares also appreciates her instructors, whom she said are always willing to make time to ensure students understand the material.
"When I got this scholarship, my mom said, 'This doesn't mean you can stop working hard.' It's my hard work that qualified me for the scholarship, and I am going to keep on working just as hard."