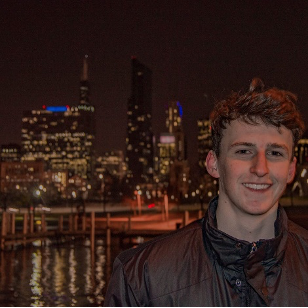 An insider scoop helped Carson Wallace find the hidden gem that is NIU's College of Engineering and Engineering Technology.
"My aunt is a writer for an engineering magazine, and she told me the engineering program at NIU is up and coming," said Wallace, a senior studying mechanical engineering. "It's a good value for the money, with accomplished faculty and good resources."
Wallace hopes to parlay his NIU degree into a career in sustainable energy. "I believe the transition from fossil fuels to renewable resources for energy production will be one of the greatest lasting impacts of my generation, and it is my dream to be a part of this transition in any way possible," he said.
NIU's labs and instructors have prepared him well, and he is looking forward to contributing this year to faculty research with Dr. Jifu Tan.
"The instruction at NIU is very personal," Wallace said. "If you put in the work and raise your hand, all of your professors will know your name. You will be able to have conversations with them when you pass them in the hallway. I think that motivates students to work harder and take their studies more seriously."
When it comes to serious studying, Wallace said, no place on campus beats Founders Memorial Library.
"Everyone in there is learning," he explained. "Learning academically, learning about people around you, learning new ideas. I think an important part of college goes past academics; it's learning to observe the world. The library encapsulates that for me."
College is also more than all work and no play. Wallace has played club soccer all four years, and some of his fondest college memories are traveling with his team.
This year, he is president of the club. He said growing from playing with the team to governing it has been a tremendous accomplishment – giving him the chance to demonstrate leadership skills he wasn't sure he had.
Scholarships play an important role in helping students like Wallace pursue their dreams. He has been on scholarship all four years at NIU, he said.
As he contemplates his future, Wallace says the Impact Scholarship has been a relief and inspiration as he considers graduate school. "It makes a big impact for my family. My parents work very hard to provide for me, so being able to ease the burden on them feels really good."