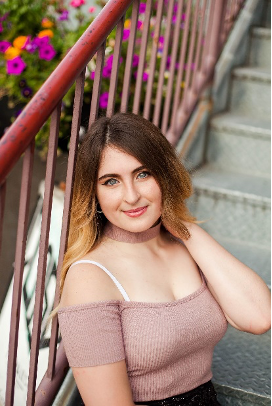 Scholarships are more than just financial aid for Caitlyn Nardi.
They are the gift of more time and a greater ability to focus on working toward her business administration degree.
"Miracles do exist for first generation college students," said Nardi, a sophomore. "Last year, I was working three jobs just to support myself and go to college. Scholarship support allowed me to cut down to one job, and I was able to take out only one loan this year instead of two."
The Chicago Heights native was drawn to NIU because of the availability of financial aid and the variety of majors. She chose business administration but likes that many other avenues are open should she change her mind. Her career goal is to eventually run her own business helping people through art therapy. In the meantime, she said, she is hoping for internships to give her a solid foundation in the business world.
NIU was initially overwhelming, Nardi admits. She transferred to the university from Prairie State College and was unprepared for the size and diversity of the campus.
"My communications class my first semester here was my favorite," Nardi confided. "My instructor was really warm and welcoming and understood my situation as a transfer really well."
She also found camaraderie in a Saturday study group. Even during the COVID-19 quarantine, she said, the group continued to meet online and support one another.
"I never really had a lot of friends until I came here," Nardi said. "Everyone is so nice and so helpful. I really appreciate the group I have."
Nardi also appreciates the donors helping to make her education possible. She said scholarships are a lifeline for self-supporting students like her.
"I don't really have help paying for this, so it really means a lot that people are reaching out, helping me, and helping other students in the same situation as me," she said.