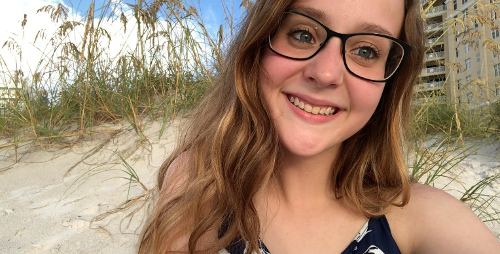 Jamie Forbeck always had a passion for science. But it took a near-tragedy her first semester of college to make her realize her career path.
Forbeck, a senior from Princeton, Illinois, is studying medical laboratory sciences. She hopes to work in a hospital and help people the way she saw laboratory professionals help her father when he experienced a medical emergency her freshman year.
"That really opened my eyes to the world of medical laboratory sciences because without them my father wouldn't be here today," she said. "My first day of MLS classes, it felt like everything I had ever worked toward made sense. That's when it clicked for me that yes, this is it."
Like many NIU students, Forbeck is self-funding her education. For her, this means working 30 hours a week as a phlebotomist at Illinois Valley Community Hospital while maintaining a full-time class schedule.
"Academically speaking, an MLS degree is very challenging, but even more challenging is working to pay for it," she said.
The senior says all the hard work is worth it and makes her especially grateful for the scholarship support that will help her make it to the finish line as a proud Huskie graduate.
"My father is an alum. I grew up talking about NIU, hearing about NIU, and knowing NIU was the place for me," she explained.
Her father's Huskie pride may have led Forbeck to NIU, but now she has her own reasons to love the cardinal and black.
"My classes are absolutely outstanding," she said. "The professors are always there for you, whether your struggle is personal or school related. And they're all very passionate. They care about what they're teaching. It's inspiring."
When she learned she had received the Impact Scholarship and could pay for her final year of study, Forbeck says she was so thankful she cried.
"This scholarship is everything," she said. "It's amazing to not have to worry about financing my last year of school, to not have to balance school with working full time. I don't have words to describe how incredible it is to have this scholarship, and how incredibly grateful I am."